Remembering Kendrick Smith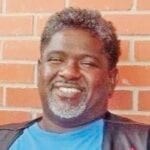 Teamsters Local 509 is deeply saddened to announce the passing of Kendrick Smith. Brother Smith worked for Dairy Farmers of America (formerly PET DAIRY) for over a decade. Our heartfelt condolences go out to Kendrick's daughter, grandchildren, and all who were lucky enough to know and love him.
OBITUARY
Mr. Kendrick Danuell Smith, 47, of Gaffney, passed away on Friday, April 2, 2021, in Orangeburg, SC.
He was born in Cherokee County, and was the son of Evelyn Corry Smith Johnson and the late James Sarratt.
Kendrick was a 1992 graduate of Gaffney High School where he played football for the Gaffney Indians. He also attended Gardner Webb University. He was a member of Bethel Baptist Church, a truck driver for Pet Dairy Company, and an active member of Hot Boyz Motorcycle Club.
He was preceded in death by his grandparents, Arvin Corry, Sr. and Rosalee Corry; two uncles, Willie Corry, Sr. and Roy Dean Rainey; a cousin, Willie Corry, Jr.
In addition to his mother, Evelyn Smith Johnson (Derrick) he leaves to cherish many fond memories: his daughter, Katie Smith; his grandchildren, Kylee Bonner, Kensley Bonner and Kyndell Rose Byars; his brothers, William Smith (Audrey) and Drayton Smith; his sisters, Debra Cooper (Berkley), Ivey Askew (Keith), and Dartona Brown (James); step-sisters, Sheila Knuckles (Glenn), Teresa Walker, Tamara Richardson (Kemo, and Marisa Sintton; aunts, Nancy Montgomery and Edith Corry; uncles, Arvin Corry, Jr. (Sarah) and David Corry; great-aunts, Ruby Nell Edward, Evangelist Ruby Askew, and Barbara Watts; nieces; nephews; other relatives and friends.
The Funeral Service will be Saturday, 11:00 a.m., in Bethel Baptist Church with Rev. James Sanders, Jr., officiating. Interment will follow in Oakland Cemetery. The family is at the home of his mother at 143 Iris Lane.